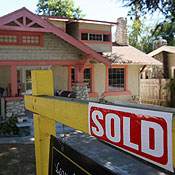 I was just listening to a Marketplace Money Podcast, and heard the following story about buying distressed and foreclosed homes.  This is some of the best reporting I've heard on the subject.  Here's a link to the story:
http://marketplace.publicradio.org/display/web/2010/10/29/mm-a-survivors-guide-for-homebuying/
And here's link to the audio:
Marketplace Money Podcast On Buying Distressed Properties
Hope you enjoy.  Let me know how you like it.